This project revolves around the 1932 shooting of my great-grandfather, Franklin Crosby Bearse who was killed while attempting to steal contraband liquor from a shed used by local rumrunners and high level gangsters. Law enforcement agents seized upon the murder case as an opportunity to pursue the mobsters and break up their notorious liquor smuggling ring. The criminal investigation was extensive and reverberated at the local and state level. Nearly 80 years later the only available narrative of the case must be extracted from the extensive media coverage, which is inconsistent and unreliable. The individual voices of those involved were lost in the midst of the scandal, which the press sensationalized.
---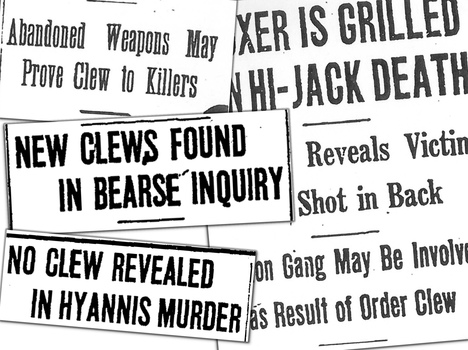 True Story: Clews
My extensive research into the circumstances and people involved in this case has failed to result in a tidy, cohesive narrative of the dramatic events. I've found the research process to be analogous to the investigation into Frankie's death -- fraught with walls of silence (descendants who refused to speak to me), frustrated attempts to access information (denied access to archives), and dead ends (records lost, missing, or perhaps hidden). In full recognition of the impossibility of positing definitive answers, I have pursued random, fragmentary details that I uncovered. This tangential line of inquiry has led to discoveries that are poetic, banal, mysterious, and humorous. My research informs a body of work that questions the relationship between the past and the present, reflects on inevitable obscurity that awaits us all, and embraces the impossibility of controlling legacy and the absurd details that outlive us.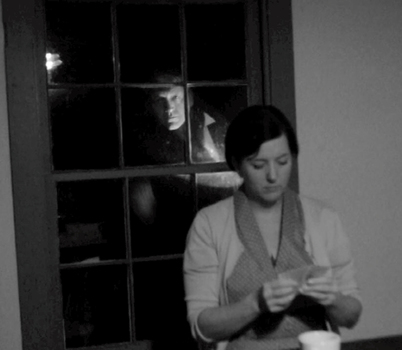 Frank at the Window
According to a curious family antecdote, on the evening of December 30, 1932 Frankie's wife Helen and her two brothers Johnny and Truman were playing cards with their mother Caroline at their parents house on Blossom Avenue. Frank interrupted their game by knocking at the window to alert Johnny and Truman that it was time to set off for the heist. If there is any truth to this story, the last time Helen saw her husband alive was through a pane of glass. Frank at the Window is a recreation of that moment. My immediate family is playing the parts of my ancesters (not all are related by blood -- see family tree).